| Overall Rating | 4.3/5.0 |
| --- | --- |
| Communication | |
| Matching System | |
| Mobile Usability | |
| Registration | |
| Support | |
| Terms And Conditions | |


C-date stands for Casual Dating, and the service has completely committed itself to this area. Founded in 2008, C-date is one of the leading services in casual matchmaking. When you are searching for uncomplicated and informal contacts, your are in good hands with C-date. It is a very reputable and secure service. Depending on the contract term, C-date even guarantees a certain minimum number of suggested partner contacts.

Visit C-date Website >>
---
C-date Communication
| Overall Rating | |
| --- | --- |
| E-Mail | |
| Chat Functions | |
| Video Chat | |
On C-date it's very easy to get in touch with like-minded people. Messages can be send to potential matches via the integrated e-mail-function. In addition, there's also a chat for direct messages. A video chat is also featured by C-date. As you can see, there are various options to get in touch with people on C-date.
---
C-date Matching System
| Overall Rating | |
| --- | --- |
| Personality Test | |
| Profile Matching | |
| Profile Visitors | |
| Block Users | |
The system for matchmaking is very efficient. C-date does not offer a detailed personality test. In the area of casual matchmaking, this is no deficit. Certain profile characteristics are used to suggest suitable partner proposals. In the member area, you can see who has visited your profile. Individual users cannot be blocked. C-date provides a very good matching system for the purpose of casual dating.
---
C-date Search Features
| Overall Rating | |
| --- | --- |
| Picture Search | |
| Keyword Search | |
| Now-Online Search | |
| Search By Profile Criteria | |
| Show New Members | |
The search functionality of C-date is lean but efficient. Profile photos of other members can be browsed in the paid version. You cannot search for specific keywords within other profiles. It is not visible which users are currently online. A search for profile criteria can be made through setting the preferences in your profile. It is not possible which users have newly registered. The possibilities for an active search on C-date are limited, but the system actively suggests suitable partners.
---
C-date Mobile Use
| Overall Rating | |
| --- | --- |
| Mobile Usability | |
| App Usability | |
| Android App | |
| iPhone App | |
C-date receives an average rating for it's mobile usability from us. The site can be used very well on mobile devices. There is no app for Android devices. An app for Apple iOS devices is not available. All in all, the mobile usability of C-date is sufficient. Mobile apps are missing, but the usability of the mobile website version is very good though.
---
C-date Usability
| Overall Rating | |
| --- | --- |
| Login with Facebook | |
| Ease Of Registration | |
| Ease Of Use | |
The registration is very simple and fast. You can create your membership account in a few easy steps. After a few minutes, the registration is done, and you can start looking for matching members. The user interface makes it fun and easy to navigate on C-date. Overall, C-date receives a good rating for its registration process and usability from our editors.
---
C-date Popularity
| Overall Rating | |
| --- | --- |
| Facebook | |
| Male/Female Ratio | 51/49 |
| Main Age Range | 25-40 |
C-date is a very popular service in the field of casual matchmaking. According to C-date, several million users are registered. The members of C-date are mainly middle-aged or younger. A large number of users and the diversified age structure makes C-date an attractive choice.
---
C-date Support
| Overall Rating | |
| --- | --- |
| Support FAQ | |
| E-mail / Contact Form | |
| Phone | |
| Helpful Articles | |
| Forum | |
C-date provides a good user support. There is a detailed FAQ section. The support team is easily reachable by E-Mail. A phone hotline is not present. C-date provides helpful and interesting articles on the subject of casual matchmaking. Overall, C-date is offering a good support.
---
C-date Terms And Conditions
| Overall Rating | |
| --- | --- |
| Free Offer | |
| Highest Price | 399.00 R |
| Lowest Price | 199.00 R |
| Free Trial Period | 0 |
| Monthly Plan | |
Fees and terms of service on C-date are fair and transparent. There is a permanently free membership which is limited in its features. A membership on a monthly basis cannot be booked. Concerning the terms and conditions, C-date is a provider in the better midfield.
---
C-date Summary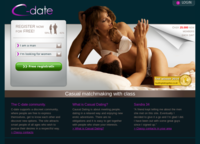 The C-date offer is aimed at people seeking contacts without any commitment. The possibilities for contacting other members make it easy to find new exciting adventures. The system for profile matching is specially made for casual matchmaking and works well. The search functionalities of C-date are very well suited for those looking for informal contacts. In terms of mobile usability, C-date is a good provider. First-time registration and site usability are very appealing. A wide user base makes the offer especially attractive. The support at C-date is lean and effective. The terms of services as well as the fees are transparent and fair. Overall, C-date is an excellent choice when looking for contacts without any commitment.